Tech Guru Talks

A technical talk and workshop series created to empower Puerto Rico and LATAM's burgeoning developer and technological community to grow and gain access to world-class speakers and developers. Become a tech guru in your own right as the best in tech fields share their expertise, insights, and stories.

Next up!



Wednesday, October 14:
Strengthening Developer Communities
Who? Tim Falls
Why? Tim helps organizations find harmony between the want to do good by their community and the need to build a sustainable business. Figures out authentic ways to turn investments in human relationships into meaningful, positive results for the business and the people it impacts. He has also spent the last 10+ years of his career helping build early- and growth-stage technology startups — assembling and leading teams as an employee, and providing guidance and support to entrepreneurs as an advisor, mentor, independent board member, and consultant.
JOINING THE EVENT:
#1 REGISTER ON HOPIN
Make sure register on the platform name, headline, email and credentials.

#2 GET YOUR TICKETS
Once your profile is ready. Access the event page again and click to the JOIN EVENT.



That's it! You will immediately receive an email confirmation. Make sure to add to your calendar and you are ready!
Doors open at 10:45AM on the event date!

HINT: When possible, make sure to complete your profile with a picture and at least your LinkedIn. The platform has a very cool networking feature and that comes in really handy :-)
FINALLY. Hopin is pretty straight forward, her's a video on how to navigate the platform for the event :-)
HOPIN TECH GURU TOUR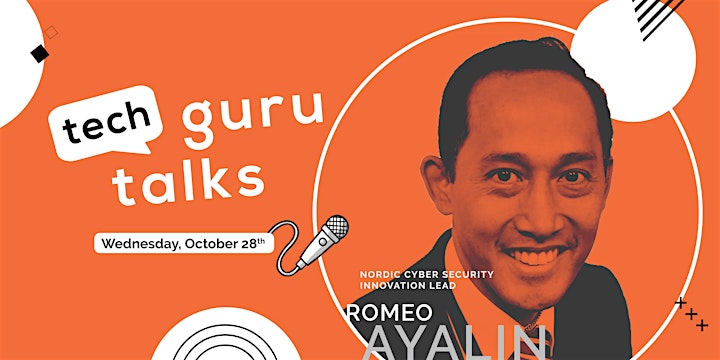 Wednesday, October 28:
Cybersecurity
Who? Romeo Ayalin, Nordic Cyber Security Innovation Lead. He's a Former US National Security and Intelligence programs professional.
Why? He has a longstanding background in intelligence services. As a former US Army Intelligence Officer, he also developed subject matter expertise in training, leadership, intelligence analysis dealing among others with geopolitical risks.